How to Get a UK Visitor Visa for Your Thai Partner
I'm going to start this post with a necessary disclaimer:
This information is based on my personal experience and in no way guarantees that your Thai partner will be granted a visa to visit the UK. Each application is decided independently by an adjudicating officer on behalf of the Home Office. I am not a licensed agent, and I have no contact with the UKBA or access to any insider knowledge. The information in this post seeks to help you complete the process correctly and submit relevant documentation for your application.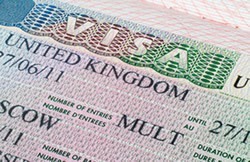 Okay, so you want to bring your girlfriend, wife, boyfriend or husband to the UK for a visit. We've (myself and Mrs TTL) have been through this process a number of times, so I'm going to break this down into a 7-step process that you can work through systematically.
Let me just say at this point that you DO NOT need to hire a visa service to apply for you. There's a plethora of visa services out there that claim to be able to give you an advantage over those who apply by themselves. It's garbage.
Such services charge you a whopping amount of money for a process that was designed for you to complete by yourself. It is not difficult if you simply follow the instructions. As much as they lead you to believe, these visa services have no "contacts" inside the Home Office or the Visas and Immigration department, and they too, like everyone else, are subject to refusal.
The one advantage they do have is experience of submitting documentation for specific circumstances. They have a feel for what the officials want to see. But I'm going to help you with that.
What Are Our Chances of Getting a Visa?
I thought I'd start with this before getting into the application process because it's something every applicant ponders on. The reality is that they don't disclose guidelines on who gets a visa and who doesn't – that would be discriminatory and hugely unfair. Each application is treated equally and subject to the same investigation.
What I will say is this; I personally believe the process is judged on 4 core aspects:
Your ability to provide adequate evidence that your relationship is genuine and exists in the way you have claimed it does.
Your ability to provide adequate supporting evidence for the details provided on your application form.
Your ability to prove that you have good reason to want to return to Thailand once your visit is over.
Your ability to fill out the application out properly.
Of course, outside of these basics I would assume they consider criminal record history, the outcome of previous applications and above all, how likely you are to disobey the rules of your visa and do something untoward in the UK.
Let's be honest, if you met your partner last month on a 2-week holiday to Thailand and are now trying to get her/him back to the UK for 6 months, you're going to have a tough time proving that your relationship is genuine and that you are going to guarantee his/her safety and financially needs while in the UK.
It might seem unfair, especially when you're in "luuurve". But consider that even though it's frustrating, the application process is designed to protect your partner and the country. I mean, if it was easy as pie to get a visa for someone you know little about and have only known a short time, it would leave foreign nationals open to exploitation. There might also be quite a few illegal Thais hiding out in the UK too ?
Anyway, you get the picture, so let's move on to the application.
Pre-Application Considerations
The form your partner needs to fill out requires comprehensive information about her person, family and travel history. So before you start, make sure he/she has the following:
Work history and current employer details/salary
Parent's names and dates of birth
Passport/travel history (current and previous – 10 years)
Details of dependents (children)
Details of funds available for the visit (personal)
Details of partner/friend/sponsor
Details of accommodation
Proposed travel/return dates
You'll notice in this post that I'm referring to "you", even though it is your partner who will need to fill out the form. The reasons for this are, 1) I assume you are researching this topic for your partner, so I'm addressing you the reader, 2) It's perfectly legal for you to assist your partner in filling out the form if your partner's English writing skills aren't up to the task. It's also a ruddy good idea to sit down and do it together anyway. That way you'll have two pairs of eyes to run over it and make sure you don't miss anything.
Step 1: Register An Account On The Visa4UK Website
You will have to apply online and this registration will provide you with a password to log-on and fill out the form. The email address you provide will also be used as a point of contact to notify you of your appointment confirmation, payment confirmation and notification to pick up your passport and decision.
Step 2. Fill Out The Application Form
Once you've set up your account, you're ready to start. Go back to the pre-considerations and make sure you have all that information to hand; otherwise you won't be able to complete the application in one sitting.
Set aside two hours for this task. You may get it done quicker, but it's best to give yourself this time so that you don't get stressed out. Pick a time when you aren't likely to be distracted and you aren't tired. You'll want to get this right first time.
If you get stuck on a question, use the form's "?" help pop-ups to guide you.
Step 3: Make An Appointment
Once the application is done, you'll be taken to view your progress on the home page of your account. At this stage, you can choose an appointment day and time to submit your application. This must be done in person at The Trendy Building in Sukhumvit (all the details are in Step 6).
Now, consider that you still need to get your supporting documentation together, so give yourself ample time for that. I recommend booking an appointment for a week's time to take the pressure off; there's quite a bit of documentation to get together.
Step 4: Make Your Payment
Do this as soon as you've booked your appointment. It's not worth leaving until later because if you forget you won't be able to submit your application. Make sure you take a copy of the payment receipt with you on submission day (see the reminder list in Step 5).
At the time of writing, the price of the application is quoted in US dollars and works out at approximately $142. I have no idea why they don't let you pay in pounds. I have complained because it works out more expensive this way, but no reply, as yet.
Once you've paid, you're all set. Now it's time to get that supporting documentation together.
Step 5: Supporting Documentation
There is a checklist for supporting documentation that will be presented by the VPS Global staff when you hand in your application. Note that this is currently used for the spouse/partner of a British citizen and not for all types of visa, at least not that I know of. But they don't tell you you everything you should submit because every application is slightly different, and having the right documentation isn't a guarantee of an approval, thus you will see the words "any other documents in support of your application" in the last box. So you need everything on this list, plus whatever you think is necessary.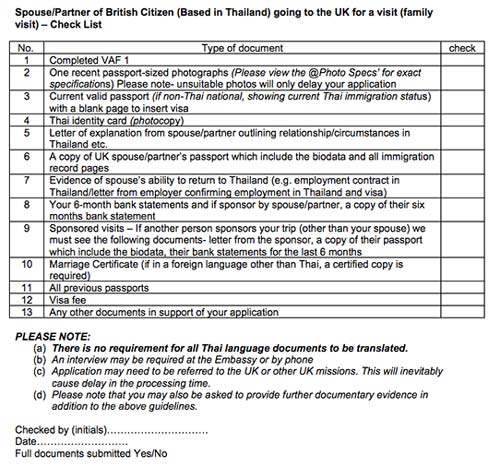 My wife has a recommended documentation list of her own, that includes the above. However, this is by no means definitive, and of course has additions/subtractions depending on the circumstances at the time of the application.
Do yourself a favour and get a folder. Buy one of those with plastic slip cases built in. This will help you present your documentation in an organised fashion. Think about how you'd feel if you were the visa official and came across a bundle of jumbled up documents in a pile. You would immediately think that this application appeared unorganised and that the applicant probably wasn't that serious about getting a visa. The last thing an official wants to do is waste time trying to fathom out which of your documents is which.
In light of this, my wife always creates a contents page that lists all the documentation inside the folder She then numbers each page inside with the corresponding number on the contents page.
* Any document you submit in Thai should be translated into Thai by an accredited translation agency. Remember, you are submitting this application to UK officials, not Thai officials; they will not be able to read anything in Thai.
** Get colour photocopies of all documentation. Some documents don't require this but I think it's better to submit a consistent application.
Recommended Documentation Inclusions:
Applicant's Birth Certificate.
Applicant's ID Card.
Applicant's Passport (front page)
Current Condo/House Lease Agreement.
Applicant's Thai House Document (Tabien Baan)
Applicant's Passport History (10 years)
Applicant's Bank Statement: proof of savings/financial independence.
Marriage Certification.
Supporting Letter From Partner/Spouse/Guarantor.
Partner/Spouse/Guarantor Proof of Funds/Savings.
Partner/ Spouse/Guarantor Passport History (10 years)
Partner's/Spouse's Birth Certificate:
Relationship Evidence (pictures, emails, phone records)
Accommodation information (where will you stay?)
Essential Must Not Forgets!
Get 2 UK passport size photographs (see UK standard guidelines here)
Print out your application
Print out your payment confirmation
Print out your appointment confirmation
Take your Thai ID Card
Take your passport! (This is needed to put the visa inside – if you pass)
Step 6: Appointment Day
On the day, make sure you arrive an hour in advance. This will give you some leverage should you have forgotten to print something out. If possible, take the MRT/BTS. A taxi may get stuck in traffic and cause you to miss your appointment.
The closest station is Nana BTS.
Directions from the station:
– Get off the train.
– Walk down the stairs.
– Turn right at the bottom of the stairs.
– Go through the ticket barrier bear off to the left.
– Take the stairs to your right (right in the corner)
– Once at the bottom of the stairs, walk straight.
– Sukhumvit 13 is about 2 roads down.
– Trendy Building is 125 meters down on your right-hand side.
VFS Address:
VFS Bangkok Application Centre
Trendy Office Building, 28th Floor,
Sukhumvit Road Soi 13,
Klongtoey Nua, Wattana,
Bangkok
10110
When you arrive at the Trendy Building, you'll see a UK/Australia/Canada visa booth located on the ground floor. Your partner must hand his/her appointment paper to the official at this desk.
The office is on the 28th floor. This means you'll need to head to the lift at the back of the ground floor. On busy days this lift can take ages to arrive, so allow at least 10 minutes to make the escalation.
If you accompany your partner to the visa office, you may not be allowed in the main submission room. It's strange. Sometimes they let partners in and other times they don't.
Step 7: The Decision: Collecting Your Passport
You will be notified by email when your visa is ready for collection. Simply go back to the same building between the times and days given on your email, with the receipt you were given after your submission.
You will receive an envelope with your passport and decision inside. Wait until you get back downstairs to the café before opening the envelope. The reason for this is that if you were rejected you may be overcome with emotion and say/do something you shouldn't.
Remember, the staff at the visa centre have no influence over this decision and are there to organise and process, not decide. No matter your plea, they cannot change this decision, only advise you on what to do next.
What To Do If You Are Refused A Visa
It does happen. It happened to us the very first time. We'd been together 2.5 years at this point and still weren't granted a visa. But here's the anomaly; it wasn't to do with my wife (then girlfriend), but me. The UK border agency wanted proof of my travel to and from Thailand since a specific period. I hadn't provided my passport history on my first application, and therefore they could not verify our history together.
This was really annoying because all one's travel history is logged on central computers in the UK, but the onus was on me to prove this, not for them to go digging into data.
So we reapplied, this time submitting my passport history and a document outlining a timeline of travel to and from the region. Of course, we also had to pay again. This time we passed and had a wonderful Christmas in the UK.
Don't get disheartened. Read the notes left by the adjudicator inside your refusal. Go home, get the documentation you need together and apply again.
The lesson here is not to leave anything to chance or the imagination of the visa officials. Be as comprehensive as possible. Provide as much evidence of your relationship, of your ability to financially sponsor and take care of your partner in the UK and as much of a reason for your partner to want to return to Thailand as possible.
What to Do Next Once You Have Your Visa
1. Pay for Your Flights
If you pre-booked your flight (s) without paying, don't forget to pay for them before they expire or you might have trouble booking a ticket for the days you want to leave and return to Thailand. Even though your visa is for 6 months, in my opinion it is best-practice to return to Thailand on the date proposed on your application. This shows that you have kept to the word of your application, and may bode well for future applications.
2. Get Travel Insurance
In the excitement of getting your visa, don't forget to get travel insurance! We almost did this last time but luckily my wife remembered and got it the night before. The NHS will treat a patient without insurance, but there will be a cost decided by the hospital, and it could be pretty expensive. Also consider personal accident cover , lost luggage cover and flight cancellation cover. We always use World Nomads. It's great cover at a reasonable price. Use the form below to get an instant quote.
Source: http://www.thethailandlife.com/uk-visitor-visa-thai-partner